TOM70 Antibody
Catalog# :4959
The translocase of outer mitochondrial membrane (TOM) complex is a multisubunit complex involved in the recognition, unfolding, and translocation of preproteins into the mitochondria. TOM70, an important member of the TOM complex, contains a tetratricopeptide repeat domain similar to those found in cytosolic chaperones such as Hsp90 and Hsc70 and provides a docking site for these proteins. This interaction is thought to be a critical first step in the TOM70-dependent mitochondrial import, followed by contact between the preprotein and TOM70. After targeting to TOM70, preproteins are translocated through the outer membrane via the TOM40 import pore complex. The precise mechanism of how preproteins progress from TOM70 to TOM40 to full translocation is still unclear. At least two isoforms of TOM70 are known to exist.
Additional Names : TOM70 (IN), Translocase of the mitochondrial outer membrane 70, TOMM70A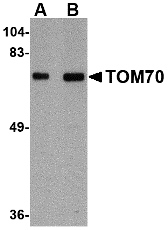 Description
Left:Western blot analysis of TOM70 in rat brain tissue lysate with TOM70 antibody at (A) 1 and (B) 2 µg/ml.
BelowImmunohistochemistry of TOM70 in mouse brain tissue with TOM70 antibody at 2.5 µg/ml.
Other Product Images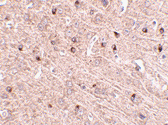 Source :TOM70 antibody was raised against a 15

amino acid peptide

near the center of human TOM70.
Purification : Affinity chromatography purified via

peptide

column
Clonality and Clone : This is a polyclonal antibody.
Host : TOM70 antibody was raised in rabbit.
Please use anti-rabbit secondary antibodies
Application : TOM70 antibody

can be used for detection of TOM70 by Western blot at 1 – 2 µg/ml.
Tested Application(s) : E, WB, IHC
Buffer : Antibody is supplied in PBS containing 0.02% sodium azide.
Blocking Peptide :Cat.No. 4959P - TOM70

Peptide
Long-Term Storage : TOM70 antibody can be stored at 4ºC, stable for one year. As with all antibodies care should be taken to avoid repeated freeze thaw cycles. Antibodies should not be exposed to prolonged high temperatures.
Positive Control :
1. Cat. No. 1463 - Rat Brain Tissue Lysate
Species Reactivity : H, M, R
GI Number : 54607135
Accession Number : NP_055635
Short Description : (IN) Translocase of the mitochondrial outer membrane 70
References
1. Kutik S, Guiard B, Meyer HE, et al. Cooperation of translocase complexes in mitochondrial protein import. J. Cell Biol. 2007; 179:585-91.
2. Young JC, Hoogenraad NJ, and Hartl FU. Molecular chaperones Hsp90 and Hsc70 deliver preproteins to the mitochondrial import receptor Tom70. Cell 2003; 112:41-50.