TEM1 Antibody
Catalog# :4357
Tumor endothelial marker (TEM) 1 was originally identified as a human embryonic fibroblast-specific antigen and was later determined to be endosialin, a single-pass transmembrane glycoprotein that has multiple extracellular domains, including three EGF-like domains, a sushi-like domain, and a C lectin-like domain. TEM proteins are significantly up-regulated during angiogenesis and neoangiogenesis that are crucial for the growth of solid tumors. While TEM1 is not required for angiogenesis during fetal development, postnatal growth or wound healing, it plays a role in tumor growth, invasion, and metastasis. Fibronectin and collagen types I and IV act as specific ligands of TEM1, leading to suggestions that these molecules may cause changes in the extracellular matrix, cell adhesion and migration during tumor invasion. At least two isoforms of TEM1 are known to exist; this

antibody

recognizes both isoforms.
Additional Names : TEM1 (CT), Tumor endothelial marker 1, endosialin, CD248, CD164L1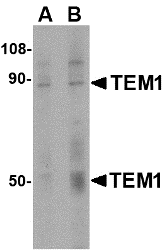 Description
Left: Western blot analysis of TEM1 in human colon tissue lysate with TEM1 antibody at (A) 0.5 and (B) 1 µg/ml.
Below: Immunohistochemistry of TEM1 in human colon tissue with TEM1

antibody

at 2.5 µg/ml.
Other Product Images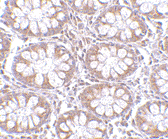 Source :TEM1 antibody was raised against a 14

amino acid peptide

near the carboxy terminus of the human TEM1.
Purification : Affinity chromatography purified via

peptide

column
Clonality and Clone : This is a polyclonal antibody.
Host : TEM1 antibody was raised in rabbit. Please use anti-rabbit secondary antibodies.
Application : TEM1 antibody can be used for detection of TEM1 by Western blot at 0.5 – 1 µg/ml.
Tested Application(s) : E, WB, IHC
Buffer : Antibody is supplied in PBS containing 0.02% sodium azide.
Blocking Peptide :Cat.No. 4357P - TEM1

Peptide
Long-Term Storage : TEM1 antibody can be stored at 4ºC, stable for one year. As with all antibodies care should be taken to avoid repeated freeze thaw cycles. Antibodies should not be exposed to prolonged high temperatures.
Positive Control :
1. Cat. No. 1320 - Human Colon Tissue Lysate
Species Reactivity : H, M, R
GI Number : 9966885
Accession Number : NP_065137
Short Description : (CT) Tumor endothelial marker 1
References
1. Rettig WJ, Garin-Chesa P, Healey JH, et al. Identification of endosialin, a cell surface glycoprotein of vascular endothelial cells in human cancer. Proc. Natl. Acad. Sci. USA 1992; 89:10832-6.
2. Christian S, Ahorn H, Koehler A, et al. Molecular cloning and characterization of endosialin, a C-type lectin-like cell surface receptor of tumor endothelium. J. Biol. Chem. 2001; 276:7408-14.
3. Nanda A and St Croix B. Tumor endothelial markers: new targets for cancer therapy. Curr. Opin. Oncol. 2004; 16:44-9.
4. Nanda A, Karim B, Peng Z, et al. Tumor endothelial marker 1 (TEM1) functions in the growth and progression of abdominal tumors. Proc. Natl. Acad. Sci. USA 2006; 103:3351-6.