TBC1D1 Antibody
Catalog# :4231
TBC1D1 is the founding member of a family of proteins sharing a 180- to 200-amino acid TBC domain and presumed to have a role in regulating cell growth and differentiation. These proteins share significant homology with TRE2/USP6, yeast Bub2, and CDC16. TBC1D1 and TBC1D4 (AS160) have been demonstrated to be Rab GAPs (GTPase-activating proteins) that link upstream to Akt and phosphoinositide 3-kinase and downstream to Rabs involved in trafficking of GLUT4 vesicles. TBC1D1 regulates insulin-mediated GLUT4 translocation through its GAP activity, and is a likely Akt substrate. Mutations in the Tbc1d1 gene lead to some cases of severe human obesity.
Additional Names : TBC1D1 (CT), TBC1 domain family member 1, TBC, TBC1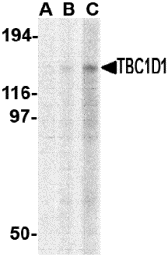 Description
Left: Western blot analysis of TBC1D1 in Daudi cell lysate with TBC1D1 antibody at (A) 1, (B) 2 and (C) 4 µg/ml.
Source :TBC1D1 antibody was raised against a 22 amino acid peptide from near the carboxy terminus of human TBC1D1.
Purification : Affinity chromatography purified via peptide column
Clonality and Clone : This is a polyclonal antibody.
Host : TBC1D1 antibody was raised in rabbit. Please use anti-rabbit secondary antibodies.
Application : TBC1D1 antibody can be used for detection of TBC1D1 by Western blot at 2 – 4 µg/ml.
Tested Application(s) : E, WB
Buffer : Antibody is supplied in PBS containing 0.02% sodium azide.
Blocking Peptide :Cat.No. 4231P - TBC1D1 Peptide
Long-Term Storage : TBC1D1 antibody can be stored at 4ºC, stable for one year. As with all antibodies care should be taken to avoid repeated freeze thaw cycles. Antibodies should not be exposed to prolonged high temperatures.
Positive Control :
1. Cat. No. 1224 - Daudi Cell Lysate
Species Reactivity : H
GI Number : 50658061
Accession Number : NP_055988
Short Description : (CT) a Rab GAP
References
1. White RA, Pasztor LM, Richardson PM, et al. The gene encoding TBC1D1 with homology to the tre-2/USP6 oncogene, Bub2, and cdc16 maps to mouse chromosome 5 and human chromosome 4. Cytogenet. Cell Genet. 2000; 89:272-5.
2. Koumanov F and Holman GD. Thrifty Tbc1d1 and Tbc1d4 proteins link signalling and membrane trafficking pathways. Biochem. J. 2007; 403:e9-11.
3. Roach WG, Chavez JA, Miinea CP, et al. Substrate specificity and effect on GLUT4 translocation of the Rab GTPase-activating protein Tbc1d1. Biochem J. 2007; 403:353-8.
4. Stone S, Abkevich V, Russell DL, et al. TBC1D1 is a candidate for a severe obesity gene and evidence for a gene/gene interaction in obesity predisposition. Hum. Mol. Genet. 2006; 15:2709-20.